RHYTHM
SECTION
AMBIGUOUS
UNAMBIGUOUS
PLATFORMS
PROJECT
ATHENS
2020
DANIEL GEIGER
MICHAEL GRAEVE
HENRIËTTE VAN 'T HOOG
DAVID KEFFORD
OLEKSIY KOVAL
GUIDO NIEUWENDIJK
SERENA SEMERARO
XIAO TANG
VERONIKA WENGER
MICHAEL WRIGHT
Curated by SOPHIE-CHARLOTTE BOMBECK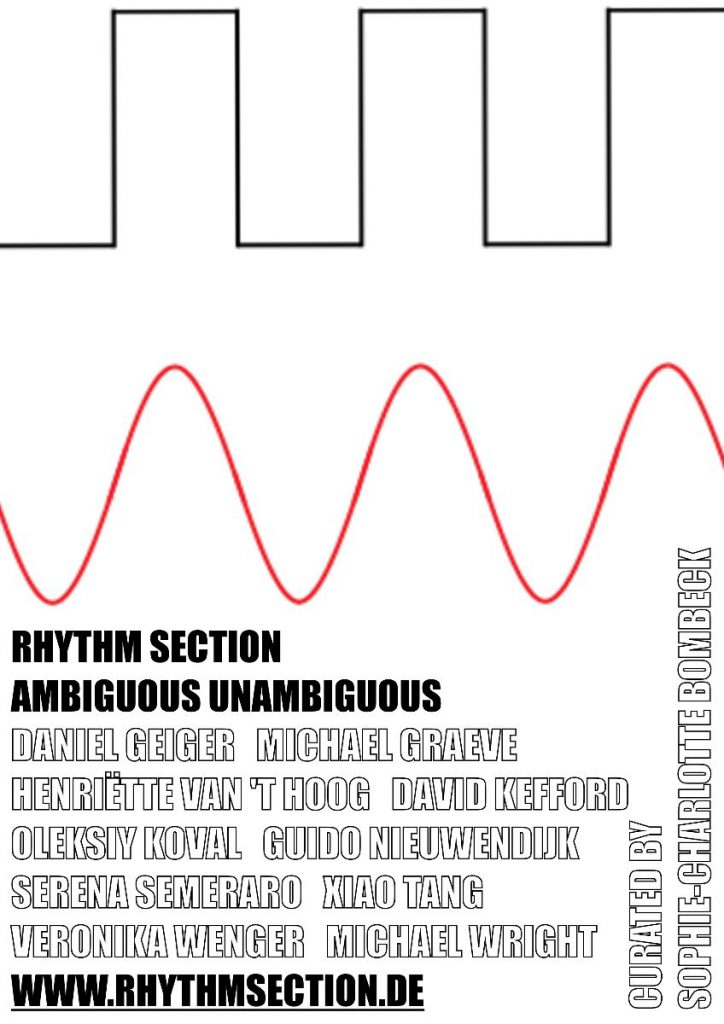 An omnipresence and invisibility of a phenomenon of our time is the digital – not the information age per se, but its novelty and revolutionary power in all areas of life up to art and art production. Like air and water, the digital is now noticed by its absence rather than its presence. Computers are a comprehensive but invisible part of our everyday life.
In our exhibition 'ambiguous unambiguous' we wanted to presents both analogue and digital works by the artists and juxtaposes the respective positions. Not to be confined by the greatest, yet to be contained within the smallest is a definition, which declared the enterprise of the artists group Rhythm Section. The substantive trait, which linked the artists of the group Rhythm Section in their works is the commitment to a hyper reflexivity in dealing with the rhythm, not as a compulsion, but as an original constant. The clear handling of the rhythm allows an endless variety of individual variations.
Thereby the exhibition deals with the topic of new, analogue-digital combinations.
What does the advent of digital mean for art production? What does it mean when "new media", which were celebrated for several decades in special festivals and institutions, have lost innovation? Is this a sustainable effect whose potential cannot yet be assessed? Which genre-spanning methods can be extracted from the field of "new media" and transferred into thinking figures that reach beyond it?
Due to the current situation and the circumstances of these times, we have decided to show one digital work of each artist in the digital show of the fair 2020 and have renounced the analog counterpart in form of a digital image. Art is always an expression of its time and the environment in which it is created. Instead of the planned juxtaposition of the two types of work, we invite you now more than ever to explore the very different digital means, materials, forms and formats used by the artists. We hope to be able to present the juxtaposition of both analogue and digital at the fair in 2021.
Sophie-Charlotte Bombeck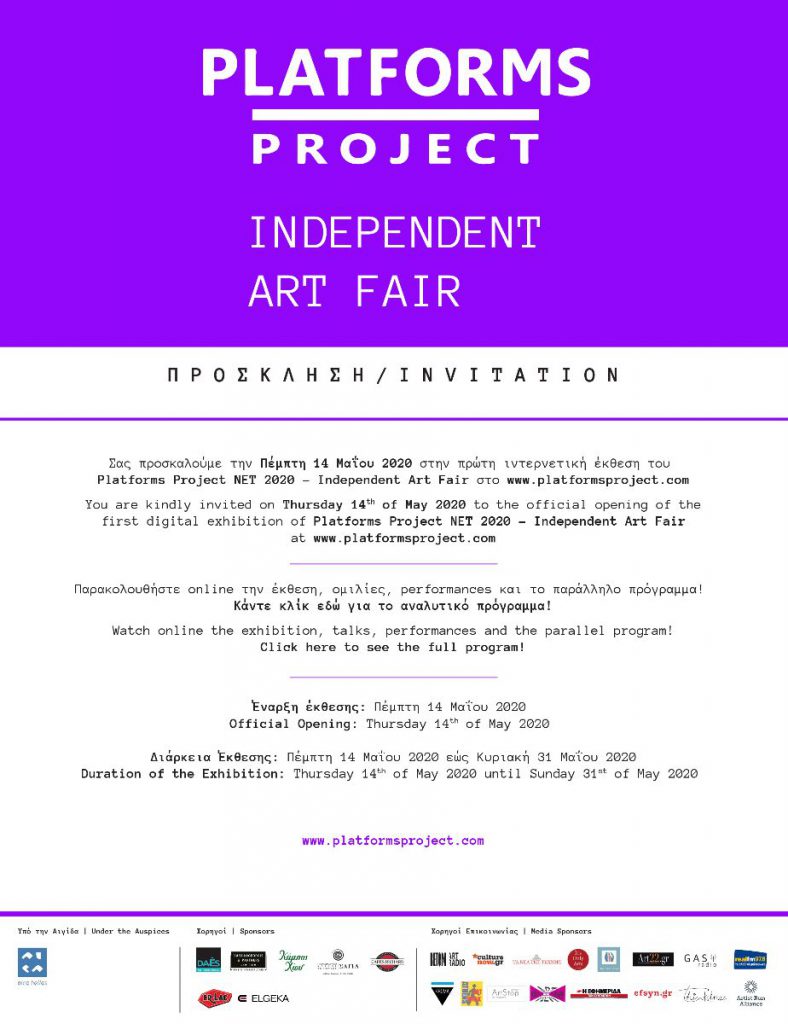 Now in its eighth consecutive year, Platforms Project is the international show that indicatively charts the art currently produced through collective initiatives by young artists on the international scene as they join forces to seek answers to contemporary artistic questions.
Platforms Project establishes a new approach to art viewing via Platforms Project Net, a web-based art fair.
We stay at home but we continue to create and bring together the voices of the independent art scene, demonstrating the power of art and technology.
The Platforms Project Net will enable the art-loving public to access the artists' groups and their works via a digital exhibition. Viewers can try a new experience by visiting the Platforms Project website for 15 days, from 14 to 31 May 2020 at www.platformsproject.com