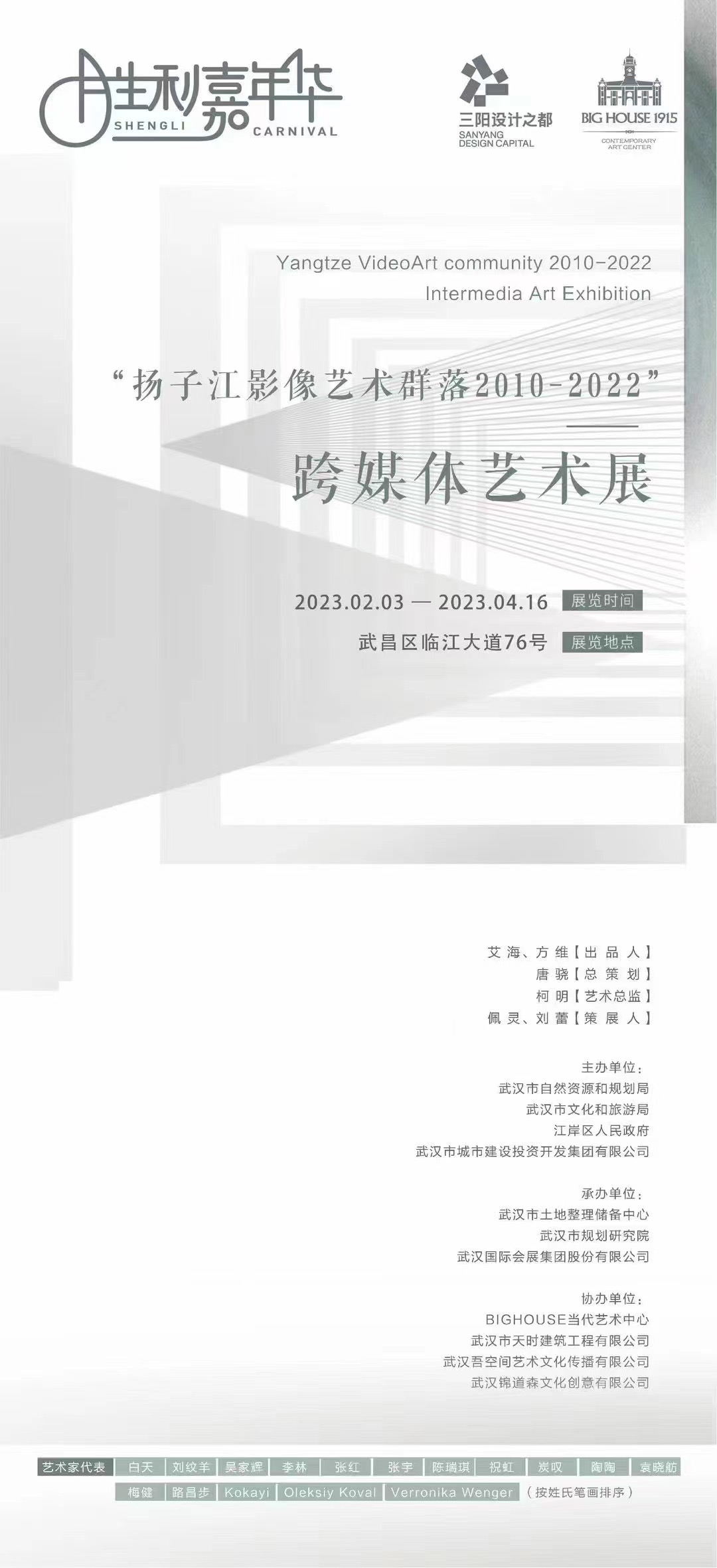 THE
YANGTZE
RIVER
VIDEO
ART
Intermedia
Art
Exhibition
Big
House
Contemporary
Art
Center
Wuhan
Feb 3 – Apr 16
2023
白天
刘纹羊
员家理
李林
张红
张宇
陈瑞琪
祝虹
炭叹
陶陶
袁晓肪
梅健
路昌步
Kokayi
Oleksiy Koval
Veronika Wenger
As screens and digital media become ubiquitous, we have inevitably entered an age of images. The mysterious halo of "video art" is gradually disappearing in the blurred boundary with our daily visual environment, but on the other hand, it shapes the aesthetic concept and viewing mode of the new era. "Video art" has become an inexhaustible driving force to promote human visual transformation and modern thinking with its integrated media characteristics and digital technology blessing.
Since the 1990s, video art began to appear in China, and some pioneering artists in Hubei also began to try to use video cameras to create. In recent years, video art creation in Hubei has gradually become popular. From multiple interpretations of reality to conceptual experimental images, from simple video clips to dynamic images generated by new media technology, a group of artists who use digital images as their creative medium They have formed a force that cannot be ignored in the field of contemporary art in Hubei. The Yangzijiang video art community gathered spontaneously under such a background. Relying on the ideological foundation of the New Wave Art Movement and the academic soil of the Academy of Fine Arts system, this art group shows an avant-garde attitude and experimental genes.
The creation of the Yangzijiang video art community focuses on the relationship between the individual and the region, takes the regional cultural ecology of Hubei as the soil of practice, responds to its own cultural context with video art creation, and explores new possibilities of video art media. The time span of the exhibited works is from 2010 to 2022, reviewing the works of 14 artists in the past ten years, connecting the creative ecology of the entire art community with individual cases, trying to re-examine the boundaries of video media, and presenting the unique features of video art in Hubei. In creation and connection, the artist uses his works to explore the relationship between individuals, times, and objects, and through thinking about individuals and regions, he constructs a visual landscape that is divorced from reality and fiction. The works pay great attention to the expression of concepts and the experimental exploration of the ontological language of the image, breaking the linear structure of "time" and presenting "non-narrative". Some works draw on the experience of daily life and emphasize personal experience; Sampling documentary, emphasizing the confrontation and communication between body and culture; there are also works using digital technology for virtual modeling, exploring technical form innovation or conveying ideas in generation.
The concentrated presentation of the works of the Yangtze River video art community, on the one hand, traces back to the creative context and multiple expressions of video art in Hubei, and on the other hand, it also expects to absorb more creative power, so as to promote a virtuous cycle of the local video art ecology.