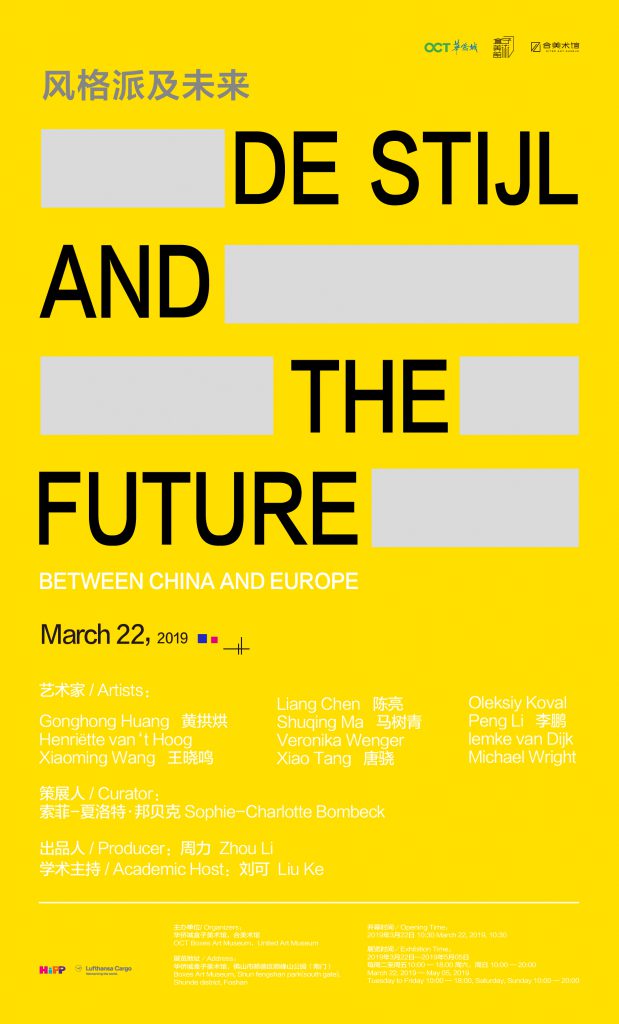 风格派及未来
DE STIJL AND THE FUTURE
BETWEEN CHINA AND EUROPE
BOXES ART MUSEUM SHUNDE
The exhibition De Stijl and the Future presents the Artworks of several Artists from China, Germany, the Netherlands and Great Britain the Exhibition explores the relationships between the movement and the work of the participating artists who are influenced by the ideas of De Stijl. The show started already in January at the United Art Museum in Wuhan (China) and will now continue in a new order at the OCT Boxes Art Museum Foshan City (China). With the exhibition we started a new series of exhibitions which, from the basic concept, guarantees an exchange between the arts, the creatives, curators and the artists themselves. Based on these considerations, we decided to invite the artists to present their own statement about art and its relationship with De Stijl. And to allow this within our exhibition, but not to integrate directly, but at a certain distance. These works are not integrated into the exhibition as direct curatorial positions, but certainly in the experience process of the exhibition conception and theme. The second show of De Stijl and the Future will open on March 22th at 10:30am.
开幕时间 / OPENING TIME
2019/03/22 10:30
展 览 时 间 / EXHIBITION TIME
2019/03/22 TO 2019/05/05
展 览 地 点 / EXHIBITION PLACE
BOXES ART MUSEUM
主 办 单 位 / ORGANIZER
合美术馆 华侨城盒子美术馆
UNITED ART MUSEUM, OCT BOXES ART MUSEUM
ARTISTS
LIANG CHEN
IEMKE VAN DIJK
HENRIËTTE VAN 'T HOOG
GONGHONG HUANG
OLEKSIY KOVAL
PENG LI
SHUQING MA
XIAO TANG
XIAOMING WANG
VERONIKA WENGER
MICHAEL WRIGHT
CURATOR
SOPHIE-CHARLOTTE BOMBECK
PRODUCER
ZHOU LI
ACADEMIC HOST
LIU KE
OPENING HOURS: TUESDAY TO FRIDAY 10:00 – 18:00 | SATURDAY, SUNDAY 10:00 – 20:00 | BOXES ART MUSEUM, SHUN FENGSHAN PARK (SOUTH GATE), SHUNDE DISTRICT, FOSHAN, CHINA
THE EXHIBITION IS SUPPORTED BY
HIPP AND LUFTHANSA CARGO