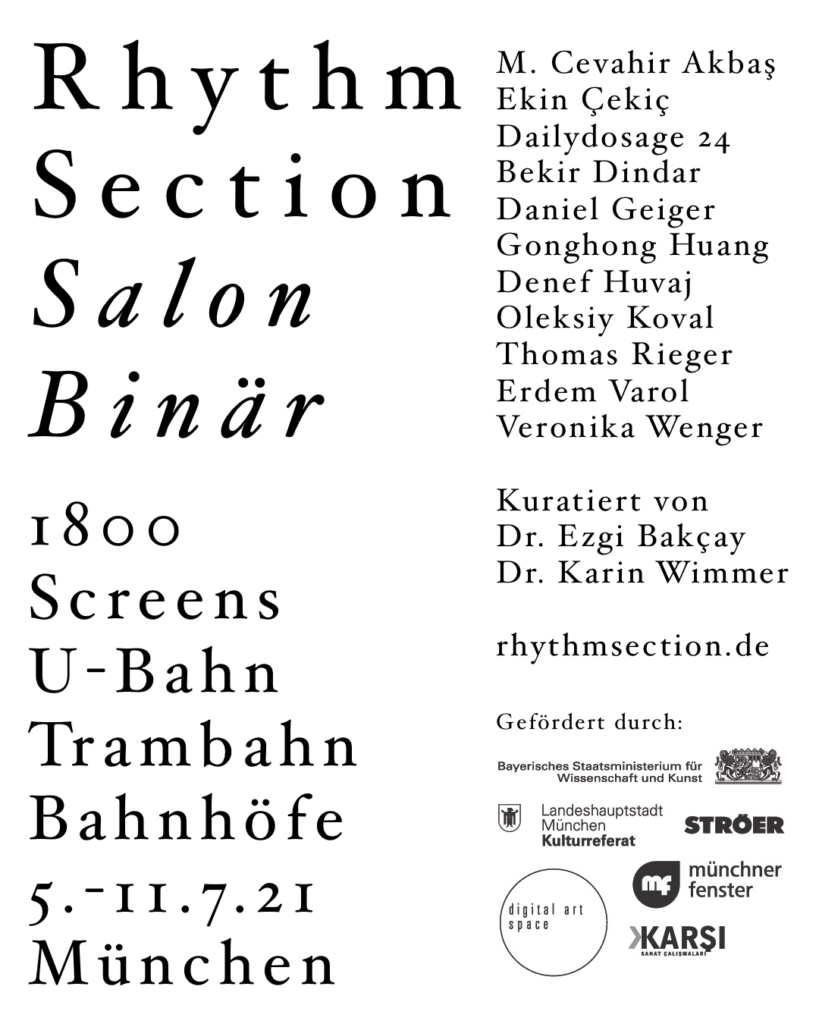 RHYTHM
SECTION
SALON
BINÄR
M. CEVAHİR AKBAŞ
EKİN ÇEKİÇ
DAILYDOSAGE 24
BEKİR DİNDAR
DANIEL GEIGER
GONGHONG HUANG
DENEF HUVAJ
OLEKSIY KOVAL
THOMAS RIEGER
ERDEM VAROL
VERONIKA WENGER
July 5 – 11, 2021
Munich
The exhibition is curated by
DR. EZGI BAKÇAY (Istanbul)
DR. KARIN WIMMER (Munich)
Digital exhibition in public space:
Munich and Istanbul
Funded by the Bavarian State Ministry of Science and the Arts; Munich Department of Culture; Ströer; MVG and Münchner Fenster; Istanbul municipality.
A digital exhibition project initiated by the Istanbul municipality, the Karşi Sanat Çalişmalari Art Center, the artist group Rhythm Section, and the Digital Art Space in Munich.
Due to the pandemic, exhibition venues are not allowed to hold openings and even have to remain closed. Exhibitions can not be presented and communicated. The distance between artists and viewers is more than ever. How can artists bring works closer to the public during the period of lockdown, when museums and exhibition halls are closed?
Digitization influences and changes daily life, relationships, works and even elections. Urban development is taking the form of a megamedium.
Smart city stands for intelligent networking within a city. Moving images are a trendy topic for media in public spaces. Moving images on public video screens offer the opportunity for effective communication with mobile audiences in passing. In istanbul, the metropolitan municipality currently operates more than 11000 public video systems. On Munich's public transport system, a mix of editorial content and advertising is shown on 137 large screens at stations and directly in the subway and streetcar vehicles on more than 1,700 screens. The infotainment program Münchner Fenster shown in the vehicles alone reaches hundreds of thousands of passengers every week. The Münchner Fenster is produced by mcrud GmbH, the large screens are operated by Ströer.
In view of numerous requests from artists in Munich and Istanbul, the curators Dr. Karin Wimmer (Digital Art Space, Munich), Dr. Ezgi Bakçay (Karşi Sanat Çalişmalari Art Center, Istanbul) and the artist group Rhythm Section decided to establish a digital gallery.
RHYTHM SECTION SALON BINÄR is a digital gallery in public space that gives artists the opportunity to be seen and invites viewers to participate in the development of digital art. Art opens itself to the public and even to the public that does not come to the museum.
RHYTHM SECTION SALON BINÄR is a sustainable project, because no resources are consumed, the project uses the existing screens of the public urban space.
The digital gallery RHYTHM SECTION SALON BINÄR will make art visible to visitors by displaying digitally created works by the artists on screens in the public urban space of Munich and Istanbul over a period of one month.
RHYTHM SECTION
A project on the subject rhythm in visual arts.
Not to be confined by the greatest, yet to be contained within the smallest is a definition, which declared the enterprise of the artists group Rhythm Section.